We offer Custom Elevator LU/LA elevator solutions.
Personal Elevator proudly offers the best of the best in LU/LA elevators for your place of business – the Custom Elevator Manufacturing Company. They introduced the first roped hydraulic commercial elevator to the U.S. market and still today set the standards for LU/LA elevator systems. A roped 1:2 hydraulic design provides the quietest and smoothest operation in the industry. This system utilizes components and devices that are tested and certified to the most stringent requirements and have been tried and proven on commercial mid-rise elevator applications subject to more frequent use. Custom Elevator is commitment to quality, safety, and dependability are unparalleled in the industry and the very reason Personal Elevator, LLC provides LUL/LA installations for businesses of any size.
Custom Elevator's unique LUL/LA design minimizes hoistway space, machine room space, pit depth, and overhead clearances and operates on standard single phase power. This, combined with the flexibility to have the machine equipment located remotely and car sizes customized to fit most any conditions, makes this system ideal for remodeling projects or new construction buildings.
The Custom Elevator Manufacturing Company offers state of the art technology, superior quality, product reliability, safety, backed by the reputation of experienced professionals known for providing installations & continued maintenance contracts for year after year hardware dependability and satisfaction – Personal Elevator, LLC.
CHARACTERISTICS
Up to 1400 lb. capacity
30 fpm nominal car speed
*Up to 4 stops
*Up to 25'-0" travel
Minimum pit depth of 3'-6" required (14" minimum with alternative means)
Minimum overhead clearance of 11'-0" required (9'-6" minimum with alternative means for existing buildings)
42" wide x 60" deep x 81" high nominal inside car size
36" wide x 80" high fully automatic two-speed horizontal sliding doors
Consult factory for other custom options.
EQUIPMENT
1:2 roped hydraulic drive
(3) 3/8" diameter hoist cables
Single stage hydraulic piston and cylinder with pressure balanced self adjusting seal
Heavy duty cantilevered design car sling with roller guide shoes
8 lb. per foot steel tee guide rail system
220 volt single phase power supply (three phase optional)
Vibration free submersible pump/motor assembly with (5) Horsepower motor
Two speed control valve with (4) solenoids, soft start and stop, and constant down-speed regulation
Heavy duty DC Master door operator with field adjustable torque, fast speed and slow speed control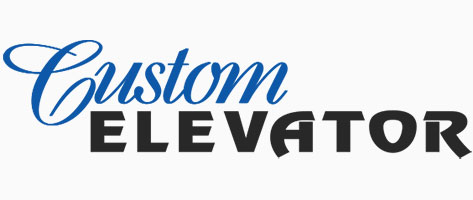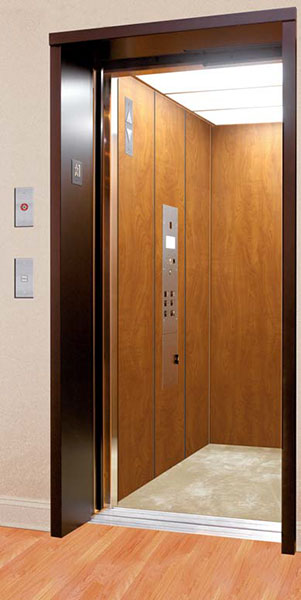 A limited use/limited application (LU/LA) elevator is a power passenger elevator in which the use and application is limited by size, capacity, speed, and rise. These low-rise elevator systems bridge the gap between conven-tional commercial elevators and other undesirable lifts used to provide solutions for architectural barriers.
A LU/LA elevator from Custom Elevator Manufacturing Company is designed and manufactured in accordance with ASME A17.1
"Safety Code For Elevators and Escalators" and offers features to meet accessibility and fire protec-tion guidelines, making this elevator a perfect, cost-effective solution for most small public building applications including churches, schools, lodges, restaurants, nursing homes,
and more.
SAFETY DEVICES
Type "A" instantaneous governor actuated car safety
Pipe rupture valve
Upper and lower terminal limit switches
Top final limit switch
Slack cable switch
Emergency car lighting in cab
Emergency keyed stop switch in cab
Emergency push button alarm in cab
Automatic car re-leveling device
Floor selectable battery lowering device
Emergency manual lowering valve
Emergency telephone in cab
Solid panel cab doors with approved safety switch
Infrared door edge protection with automatic door reopen system
Approved electro-mechanical hoistway door interlocks
Impact buffers below elevator car
UL and/or CSA certified electrical and hydraulic devices
Manufactured in accordance with ASME A17.1 Safety Code
Pit stop switch
CONTROL/PUSHBUTTON FIXTURES
Automatic pushbutton control
Microprocessor based control system with uninterrupted battery back-up emergency lowering with automatic door operation
Light-up push buttons in car and hall with Braille
Digital floor position indicator with direction arrows in car
Floor "Stop/Pass" audible signal in car
Automatic cab lighting with override switch
Automatic indicator light time-out feature
Automatic "Home Park" feature to designated floor
Low oil protection timer circuit
Top of car inspection operation
Recessed telephone box with phone
CAB FINISHES AND ACCESSORIES
Fire rated wood core wall panels with black filled reveals to simulate applied panels faced with plastic laminate available in several solid, textured, and wood grain finishes
Car entrance including strike column, return panel, and transom are #4 brushed stainless steel finish
Two speed reinforced hollow metal horizontal sliding car doors with #4 brushed stainless steel finish
Steel canopy with fire rated thermoclear panel suspended ceiling and fluorescent lighting above
3/8" x 2" #4 brushed stainless steel handrail on (1) side wall
Extruded aluminum car sill
#4 brushed stainless steel certificate frame
Unfinished plywood sub-floor in cab
HOISTWAY DOORS
Two speed horizontal sliding fire rated door and frame assemblies with prime (paint-able) finish and extruded aluminum sills
CAB OPTIONS
Wide variety of plastic laminate color choices
Steel with baked enamel finish wall panels
#4 brushed stainless steel wall panels
#4 brushed stainless steel base (kick-plates)
Protection pads and hooks
Car top emergency exit
Exhaust fan
Plastic laminate faced car door(s)
#4 brushed bronze metal finishes
Custom car sizes
DOOR OPTIONS
Fire rated accordion car door(s) available in chalk, light oak, or aluminum finish in lieu of two speed horizontal sliding doors
Automatic car door operator for accordion car door(s)
36" x 80" fire rated swing door entrance(s) with prime (paint-able) finish in lieu of two speed horizontal sliding doors. Swing doors include hinges, passage sets, delay action closers, and vision panel in door
Low energy fully automatic power swing door operator(s)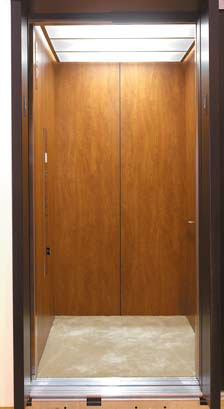 CONTROLS/PUSHBUTTON OPTIONS
Digital hall position indicators with direction arrows incorporated into the hall call station
* Car travel lantern with audible signal
* Fire service phase I and II with alternate return floor
* ADA compliant phone
#4 brushed bronze faceplate/button finishes
Keyed control switches in car and/or hall

Optional car travel lantern with audible signal and brushed stainless steel finish.

Optional digital hall position indicator with direction arrows incorporated in the hall call station(s) with brushed stainless steel finish.

Optional keyed control hall call station with brushed stainless steel finish.
Car operating panel with brushed stainless steel finish. Shown with fire service phase I and II options.


OTHER OPTIONS
208/230/480 volt, 3 phase power
Car top/bottom stopping devices (alternative means)
Tank heater

We GUARANTEE 24 hour service response time
We do all installations ourselves
We NEVER outsource any of our work
We are a small local business
We stay with you for the life of your elevator
We are fully Licensed and Insured
| New Jersey | Pennsylvania | Delaware | New York | Maryland |
WE PRIDE OURSELVES ON DELIVERING
QUALITY, CRAFTSMANSHIP, AND SAFETY.
PRESS THE CALL BUTTON TO CONTACT US
OVER 30 YEARS OF COMBINED EXPERIENCE
WE PRIDE OURSELVES ON DELIVERING
QUALITY, CRAFTSMANSHIP, AND SAFETY.
PRESS THE CALL BUTTON TO CONTACT US
OVER 30 YEARS OF COMBINED EXPERIENCE